Show Variations on the Shop Page
Help Customers Find What They're Looking For
Give customers a clear and straightforward shopping experience by displaying variations as single products.
Show accurate search and filter results that show individual products, rather than catch-all variable products.
Save customers time, clicks, and frustration by improving the browsing experience.
Well worth the investment! This plugin helps us showcase our many variations in ways that were previously not possible.
John O'Brien Acoustical Solutions
Show Variations in Filter and Search
Expand Your Product Catalog in Just a Few Clicks
Choose which variations to show on the shop page, filtered results, search results, featured listings, or none of the above.
Hide the parent variable product for a cleaner look.
Help customers find the right products, quickly.
Now I'm able to show my variations which represent actual products on my store. Thanks!
Pierre-Olivier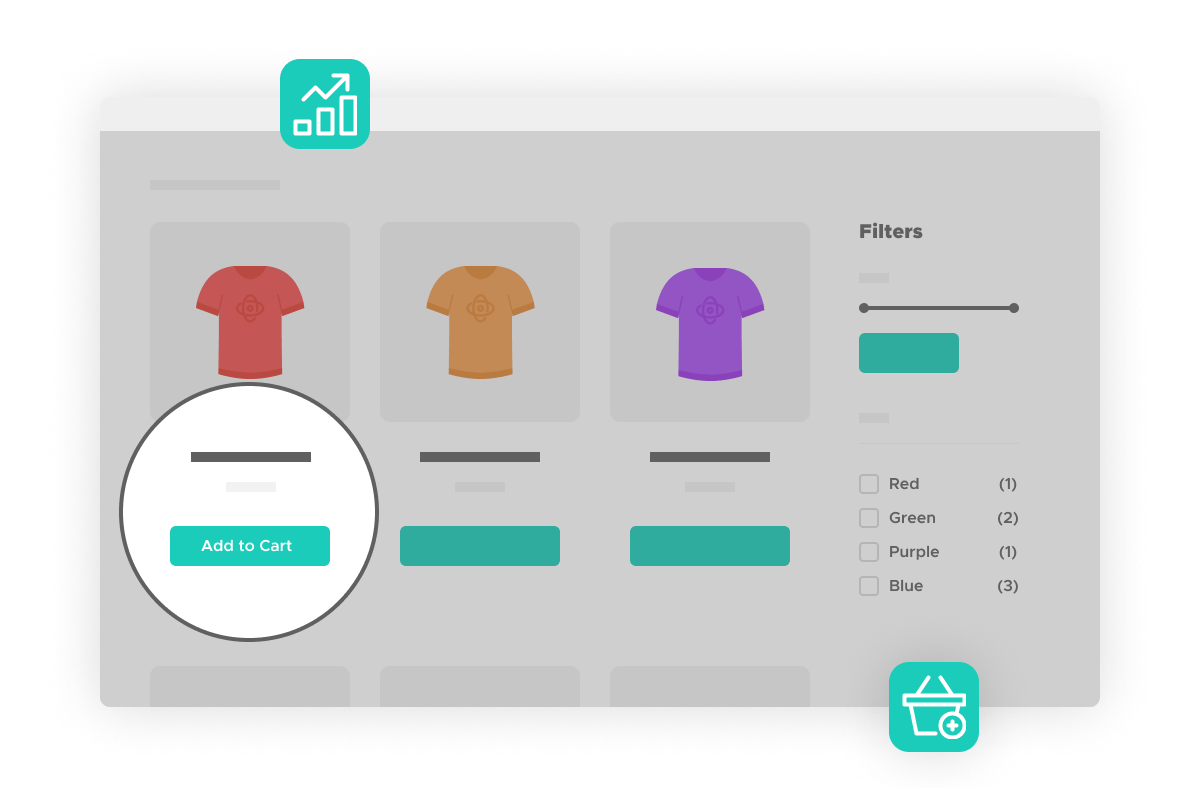 Add to Cart
Save Your Customers Clicks
Add variations to cart right from the product listing pages.
Prevent unnecessary clicks through to single product pages.
Increase your shop's average order value by making it easier to buy from you.
I've been using WooCommerce Show Single Variations on my businesses website for a long time and have always been happy with the results. James and the team have always responded in a super fast and helpful manner.
Jon-Paul Smith Comic Book Shop
Edit Variation Titles
Create Appealing Variation Titles
Change the default titles for each of your product variations.
Increase the chance of a sale by making each product appealing and "clickable".
Words cannot express how much I love this plugin for my site. I am a small batch maker who creates products with variations. Being able to create a single listing and show variants as separate products really helps my clients visualize finished goods.
Chris Cravens 10 Gables
30-day money-back guarantee
Theme compatibility guaranteed
More Incredible Features
WooCommerce Show Single Variations also includes all of the following features — Optimize your WooCommerce store today and increase sales and conversions.
Show Variations
Drive more sales by showing any or all of your product variations directly in the catalog listing.
More Products
Using WooCommerce Show Single Variations allows you to show more of your product range.
Easy to Use
Once installed, simply choose where you'd like each variation displayed; Catalog, Filtered Results, and Search Results.
Seamless
Works with any theme, placing your variations seamlessly into your catalog and shop pages.
Integrated
Looks and acts as though it is native WooCommerce functionality.
Easy to Setup
There are no complicated settings, just simple options for each variation.
Add to Cart
You can choose, per variation, whether it can be added to cart from the catalog listing.
Filters
When a variation is set to be shown in filtered results, it will be added to the layered navigation product count, too.
Screenshots
See how WooCommerce Show Single Variations looks for both customers and admin users.
Choose Your License
Which plan is right for you? Whichever one you choose, you'll get access to this incredible plugin and our 5-star support.
All Access Club
14+ Sales-Boosting Plugins From Only $299
Get this plugin and more when you join the All Access club. Instantly increase your store's selling power and usability.
Bundle up.
Get Show Single Variations, Attribute Swatches, and WooThumbs for only $237 $149 with our WooCommerce Variations Bundle.
Show Single Variations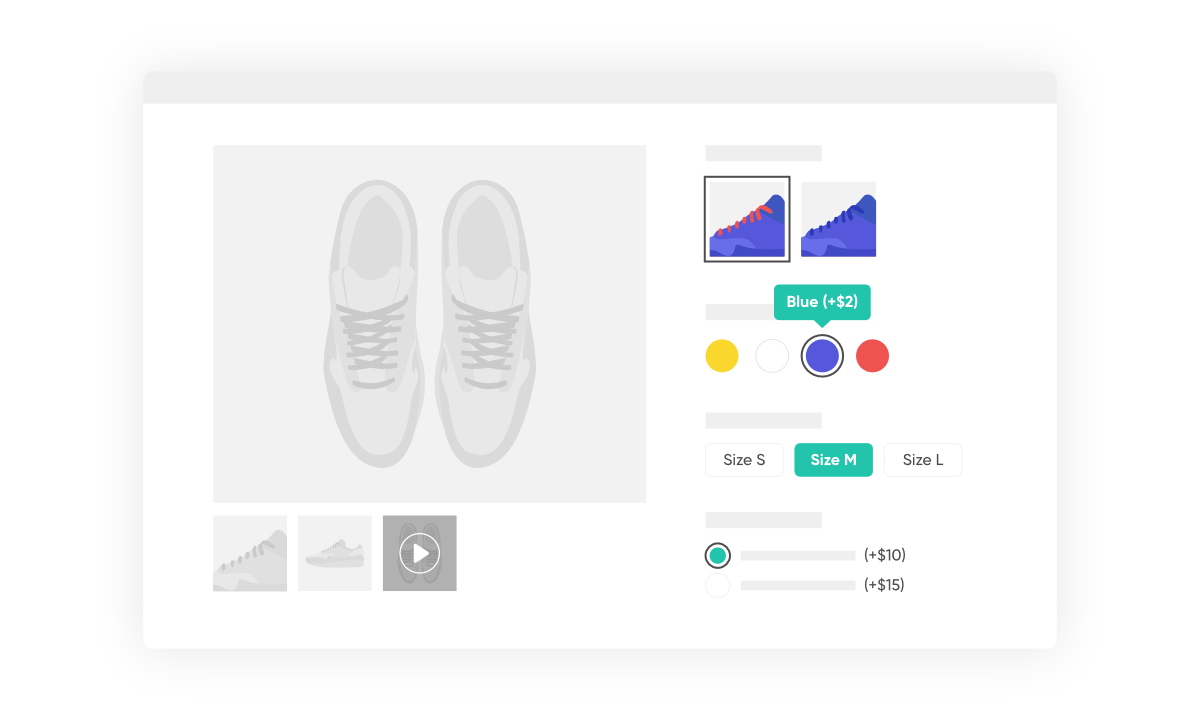 Attribute Swatches
WooThumbs
100% No-Risk Money Back Guarantee
You are fully protected by our 100% Money Back Guarantee. If you aren't completely satisfied within 30 days of purchase, you're more than welcome to a full refund!
Version: 1.12.0
Updated: 02 May 2023
Released: 5 Nov 2015
WordPress: 6.2
WooCommerce: 7.6.1
Frequently Asked Questions
Have you got a question about WooCommerce Show Single Variations? Check out some of the most popular questions and answers below.
Will it work with my theme?

Yes, WooCommerce Show Single Variations will work with any well-coded WooCommerce theme.

Will my variations show as related products?

Yes, if they are set to visible in the catalog.

How is this different from your other plugin, WooCommerce Linked Variations?

The two plugins give a similar final result, but each would be used for a different scenario.

If you have variations of a product with the same (or very similar) titles and descriptions, then WooCommerce Show Single Variations is for you. Google would only index the parent product, and you won't be flagged for duplicate content.

If you have variations with different titles and descriptions, you may find WooCommerce Linked Variations better. Each variation (single product page, in this case) would then be indexed separately and will give you more results in Google.

Will this plugin affect my SEO negatively?

No. WooCommerce uses canonical links for variable products, which means Google will be given only 1 official URL for the parent product and all of its variations.

Can I change the domain associated to the license?

Yes. Our system checks against the number of active installs, rather than the specific domain names. You can deactivate the plugin on one domain and then activate it on another domain with no issues.

Can I still use the plugin when my licence expires?

If you purchased an annual license, then yes, you can still use the plugin in its full capacity even after your license expires. However, you will no longer be able to receive updates or support for the plugin.

Can I use my licence in a development environment?

Do you offer lifetime licenses?

No. We do not offer any lifetime licenses for our plugins.

Yes, if you decide within 30 days of purchase our plugin is not for you, we'll happily refund you in full.

Do you offer a free trial?

No, however, we do have a 30-day money-back guarantee. If you decide within 30 days of purchase our plugin is not for you, we'll happily refund you in full.

Do you offer multi-site licenses?

Yes, we do (and they're heavily discounted)! When the checkout modal opens you can choose between 1 Site, 3 Sites, and 30 Sites under Plan Selected at the top. If you have any other requirements, please get in touch via our support page.

Is this a lifetime licence, or will it stop working after 1 year?

The license is an annual subscription. It can be canceled at any time. If you cancel the subscription, the plugin will continue to work as normal until the end of the paid-for period.

Once the license expires or is canceled, you will no longer receive updates or support for the plugin.

After expiration or cancellation, the plugin will continue to work on your site.

Why do I need a subscription?

WooCommerce is evolving constantly. A subscription model allows us to continue supporting the latest releases and offer the best support we can.

Will it work with my theme?

All Iconic plugins are tested in multiple WooCommerce themes. As long as your theme is well coded and WooCommerce compatible, it will work. If there are any issues, we're more than happy to try and fix them; just get in touch.

Will my subscription renew automatically?

Yes, your subscription will renew automatically every year, unless you cancel it. If you do decide to cancel it, your license will still be valid for the paid-for period; this means you will still receive updates and support during that time.

Do you offer monthly plans?

No, not for single plugins; we only offer annual plans. For bundles, we do offer monthly and annual plans.
DJ
Good product. Does exactly what I need.
5
Great customer support
I had some problems with reactivating the plugin after a license renew. They helped me out within a day, all problems solved.
5
Great plugin, does exactly what we need
This plugin works really well on our site. We did need some support to move from trial to production. The support is amazing, very responsive and helpful. Definitely will use on future sites if the need arises.
5
Great support
Very happy with. Very useful
5
Very Useful
Great plugin, works as advertised and saved me a lot of time
5