WooCommerce Quickview
Add a Quick View Product Lightbox to WooCommerce
Speed up buying decisions by adding a product lightbox to the WooCommerce category and shop pages. Let customers preview and add items to their cart from within the product lightbox.
Trusted by over 16,000 WooCommerce Businesses and Online Shops
WooCommerce Quick View
Speed Up Customer Buying Decisions
Display a quick view button on the category/shop pages, which opens a product preview lightbox so customers can buy products with fewer clicks.
Customers can view and interact with product content before adding it to their cart, all within the quick view lightbox - increasing the chance of a sale.
This plugin is a complete game changer! It made my site so much more accessible for our clients. They love that they don't have to click and open the product page just to add things to their cart.
Edit the Lightbox Contents
Customize The Product Lightbox Content To Suit Your Store
Get full control over what appears within the WooCommerce quick view lightbox by easily adding, or removing content like the product description, title, price, and much more.
Customize the product image gallery by picking transitions, navigation style, thumbnail type, and speed.
Give customers a tailored preview of your products and as a result, you'll reduce overwhelm and increase sales.
WooCommerce Quick View Navigation
Browse Products Without Leaving The Lightbox
Allow customers to browse through your products while the quick view lightbox is open - saving them time.
Showcase more of your products with user-friendly navigation and increase the chance of an additional sale.
The Quickview plugin is easy to install and adds a great option for customers making the buying process much smoother - Good work Iconic!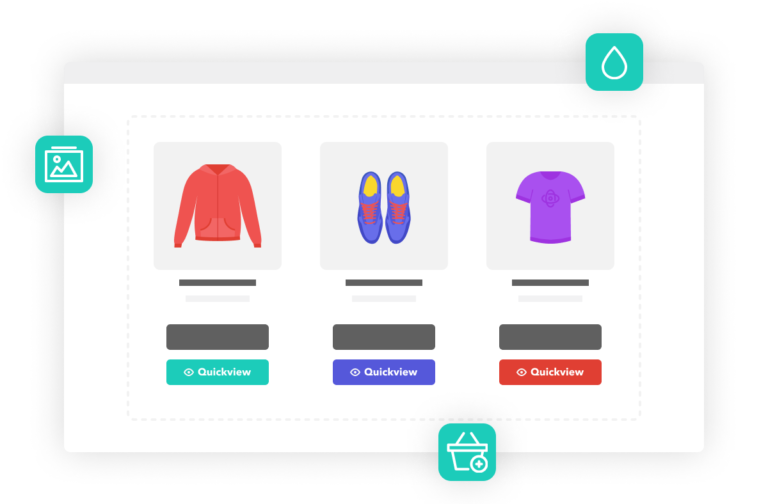 Quick View Button
Customize The Quick View Button To Match Your Theme
Have the quick view lightbox open when the customer clicks or hovers over the button - tailoring your customer experience.
Or have the button hidden and only show when a customer hovers over the product - keeping your store streamlined.
Completely customize how the button looks (color, style, padding, etc), its text, and if it has an icon or not - helping it blend in with your store's design.
Change its position, alignment, and spacing for a cleaner user experience.
Quick View Shortcode
Add WooCommerce Quick View Buttons Anywhere
Add a WooCommerce quick view button to any page or post within your site using a shortcode - allowing customers to purchase from anywhere.
Website visitors can click, preview and purchase products from within the quick view button lightbox, optimizing your whole store for sales.
Built for Speed
Our plugins will not affect the speed and performance of your WooCommerce store.
Plug & Play
We promise our plugins are easy to setup and easy for your customers to use.
Translation Ready
All of our plugins are compatible with WPML and other translation tools.
Expert Support
Our fast and knowledgeable support is regularly praised by happy customers.
After working with hundreds of WooCommerce extensions that are slow and bloated, it's been a pleasure working with Iconic. The code is clean. The features are focused. And best of all, they help grow your store's revenue!
5
Sleek Styling
The sleek and minimal styling of Quickview means it will blend perfectly into any theme.
Fully Customisable
Easily customise the design of Quickview buttons and have full control over which components are shown in the modal window.
Works with All Products
Products can be added to the cart instantly, including variable products.
Gallery
Use the Quickview gallery feature to navigate easily between products using the prev/next arrows.
Mobile Friendly
Looks great on all devices and screen sizes, including smartphones, tablets and desktops.
Integrated
Seamlessly integrates into your theme using WooCommerce hooks to place itself in your product listing pages.
Compatible
Works great with any well-coded WooCommerce theme - and compatible with many of our other plugins.
Developer Friendly
Easily insert additional product information as required using action and filter hooks.
Before buying a premium WooCommerce plugin, you usually weigh its code quality, performance, support responsiveness, and compatibility. Thankfully, with Iconic's quality products, there's no need to worry at all.
5
Choose Your License
Which plan is right for you? Whichever one you choose, you'll get access to this incredible plugin and our 5-star support.
100% No-Risk Money Back Guarantee
You are fully protected by our 100% Money Back Guarantee. If you aren't completely satisfied within 30 days of purchase, you're more than welcome to a full refund!
Version: 3.4.16
Updated: 16 Mar 2021
Released: 28 Mar 2013
WordPress: 5.7
WooCommerce: 5.1.0
Frequently Asked Questions
Have you got a question about WooCommerce Quickview? Check out some of the most popular questions and answers below.
Can I change the domain associated to the license?

Yes. Our system checks against the number of active installs, rather than the specific domain names. You can deactivate the plugin on one domain and then activate it on another domain with no issues.

Do you offer lifetime licenses?

Yes. For individual products we offer a lifetime license. You can view the pricing for annual and lifetime licenses by clicking "Select License" in the pricing section.

Do you offer monthly plans?

No, not for single plugins; we offer annual and lifetime plans. For bundles, we do offer monthly and annual plans.

Do you offer multi-site licenses?

Yes, we do (and they're heavily discounted)! When the checkout modal opens you can choose between 1 Site, 3 Sites, and 30 Sites under Plan Selected at the top. If you have any other requirements, please get in touch via our support page.

Can I still use the plugin when my licence expires?

If you purchased an annual license, then yes, you can still use the plugin in its full capacity even after your licence expires. However, you will no longer be able to receive updates or support for the plugin.

If you purchased a lifetime license then your license will never expire!

Can I use my licence in a development environment?

Yes, if you decide within 30 days of purchase our plugin is not for you, we'll happily refund you in full. We also offer a 14 day free trial for you to test the plugin.

Is this a lifetime licence, or will it stop working after 1 year?

There are 2 types of license, annual and lifetime.

Annual licenses are subscription based and can be cancelled at any time. If you cancel the subscription, the plugin will continue to work as normal until the end of the paid-for period.

Once the license expires or is cancelled, you will no longer receive updates or support for the plugin.

After expiration or cancellation the plugin will continue to work on your site.

Why do I need a subscription?

WooCommerce is evolving constantly. A subscription model allows us to continue supporting the latest releases and offer the best support we can.

Will it work with my theme?

All Iconic plugins are tested in multiple WooCommerce themes. As long as your theme is well coded and WooCommerce compatible, it will work. If there are any issues, we're more than happy to try and fix them; just get in touch.

Will my subscription renew automatically?

Yes, your subscription will renew automatically every year, unless you cancel it. If you do decide to cancel it, your licence will still be valid for the paid-for period; this means you will still receive updates and support during that time.
The Quickview plugin is easy to install and adds a great option for customers making the buying process much smoother – Good work Iconic ! Jim (neatwebsites.com.au)
5
This plugin is a game changer! It made my site so much more accessible for our clients!
This plugin is a complete game changer! It made my site so much more accessible for our clients! They love that they don't have to click and open the product page just to add things to their cart! Thank you for a wonderful plugin, with awesome customer service and support!
5
Easy to set up and use, good looking and very well coded.
5
Great plugin to compliment the rest of my IconicWP collection. Had a request for a modification that was handled immediately. Amazing and fast response. By far some of the best and most useful plugins!
5
Excellent plugin perfectly works congratulations!
5