WooCommerce Delivery Slots
Delivery and Pickup on Your Customer's Schedule
Choose a convenient delivery or pickup date and time during checkout on your WooCommerce store.
Maximize your available delivery and pickup capacity and reduce cart abandonment.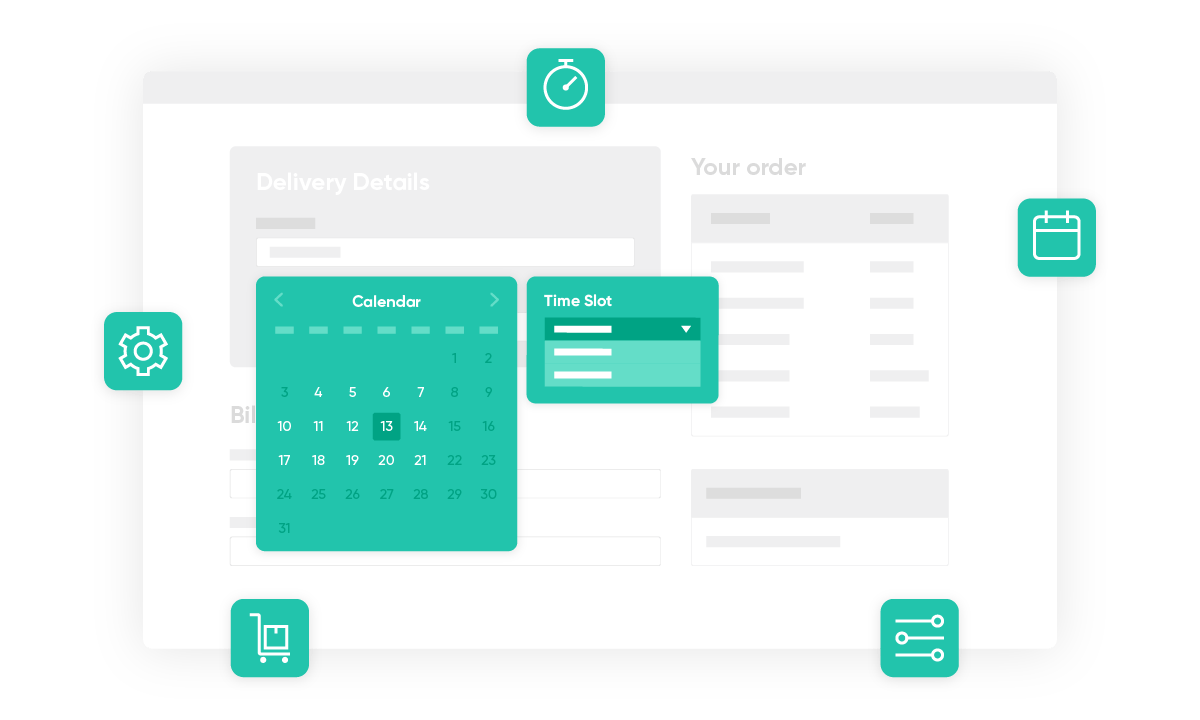 Trusted by over 16,000 WooCommerce Businesses and Online Shops
Built for Speed
Our plugins will not affect the speed and performance of your WooCommerce store.
Easy to Use
We promise our plugins are easy to setup and easy for your customers to use.
Translation Ready
All of our plugins are compatible with WPML and other translation tools.
Friendly Support
Our fast and knowledgeable support is regularly praised by happy customers.
Before buying a premium WooCommerce plugin, you usually weigh its code quality, performance, support responsiveness, and compatibility. Thankfully, with Iconic's quality products, there's no need to worry at all.
5
Set Delivery Days
Choose which days of the week you can make deliveries on.
Shipping Method Restrictions
Assign time slots to specific shipping methods, making it easy to create complex delivery date rules.
Disable for Products or Categories
You can disable the delivery date and time fields if specific products are in the cart.
Calendar Themes
Choose from a number of calendar styles to ensure it matches your store's design.
Define Min/Max Delivery Date
Define how many days required before the first and last available delivery date in the calendar.
Delivery Date Fees
Set fees based on the day of the week, same day, or next day deliveries.
ASAP Delivery Option
Allow your customers to select delivery "as soon as possible" instead of choosing a time slot.
Disable Time Slots (X) Minutes Before Start Time
Disable time slots if the order is placed a certain number of minutes before the time slot begins.
Enable Slots for Specific Shipping Methods
Choose which time slots show for which shipping methods. Create flexible shipping schedules.
Time Slot Fees
Charge an additional fee if your customer selects a specific day of the week or time slot.
Disable Slots After (X) Orders
Also known as "lockout", you can disable time slots after (X) orders on any one day.
Deliveries Calendar
View and sort upcoming and reserved delivery slots.
Flexible Terminology
Easy to change checkout labels; you can even change them based on the selected shipping method. I.e. "Delivery Date" or "Collection Date".
Shipping Plugin Compatibility
WooCommerce Delivery Slots is compatible with many 3rd-party shipping plugins. If you need one adding, just ask!
Developer Friendly
Plenty of actions and filters available to modify the functionality of WooCommerce Delivery Slots.
After working with hundreds of WooCommerce extensions that are slow and bloated, it's been a pleasure working with Iconic. The code is clean. The features are focused. And best of all, they help grow your store's revenue!
5
Choose Your License
Which plan is right for you? Whichever one you choose, you'll get access to this incredible plugin and our 5-star support.
100% No-Risk Money Back Guarantee
You are fully protected by our 100% Money Back Guarantee. If you aren't completely satisfied within 30 days of purchase, you're more than welcome to a full refund!
Version: 1.13.4
Updated: 16 Mar 2021
Released: 2 Apr 2014
WordPress: 5.7
WooCommerce: 5.1.0
Frequently Asked Questions
Have you got a question about WooCommerce Delivery Slots? Check out some of the most popular questions and answers below.
Will WooCommerce Delivery Slots work with my theme?

Yes! WooCommerce Delivery Slots will work with any WooCommerce theme.

Is WooCommerce Delivery Slots compatible with..?

WooCommerce Delivery Slots is compatible with a number of plugins, including: BE cart based shipping, Distance Rate Shipping by WPShowCase, WooCommerce Advanced Free Shipping, Table Rate Shipping Plus by mangohour, Multi Step Checkout, Table Rate Shipping, WooCommerce Advanced Shipping, WooShip, and more. Just let me know if there's something missing.

Is WooCommerce Delivery Slots WPML compatible?

Yes, it also comes with some pre-made translation files.

Can I change the domain associated to the license?

Yes. Our system checks against the number of active installs, rather than the specific domain names. You can deactivate the plugin on one domain and then activate it on another domain with no issues.

Do you offer lifetime licenses?

Yes. For individual products we offer a lifetime license. You can view the pricing for annual and lifetime licenses by clicking "Select License" in the pricing section.

Do you offer monthly plans?

No, not for single plugins; we offer annual and lifetime plans. For bundles, we do offer monthly and annual plans.

Do you offer multi-site licenses?

Yes, we do (and they're heavily discounted)! When the checkout modal opens you can choose between 1 Site, 3 Sites, and 30 Sites under Plan Selected at the top. If you have any other requirements, please get in touch via our support page.

Can I still use the plugin when my licence expires?

If you purchased an annual license, then yes, you can still use the plugin in its full capacity even after your licence expires. However, you will no longer be able to receive updates or support for the plugin.

If you purchased a lifetime license then your license will never expire!

Can I use my licence in a development environment?

Yes, if you decide within 30 days of purchase our plugin is not for you, we'll happily refund you in full. We also offer a 14 day free trial for you to test the plugin.

Is this a lifetime licence, or will it stop working after 1 year?

There are 2 types of license, annual and lifetime.

Annual licenses are subscription based and can be cancelled at any time. If you cancel the subscription, the plugin will continue to work as normal until the end of the paid-for period.

Once the license expires or is cancelled, you will no longer receive updates or support for the plugin.

After expiration or cancellation the plugin will continue to work on your site.

Why do I need a subscription?

WooCommerce is evolving constantly. A subscription model allows us to continue supporting the latest releases and offer the best support we can.

Will it work with my theme?

All Iconic plugins are tested in multiple WooCommerce themes. As long as your theme is well coded and WooCommerce compatible, it will work. If there are any issues, we're more than happy to try and fix them; just get in touch.

Will my subscription renew automatically?

Yes, your subscription will renew automatically every year, unless you cancel it. If you do decide to cancel it, your licence will still be valid for the paid-for period; this means you will still receive updates and support during that time.
Easy to set up and met all requirements.
5
Great plugin thanks . very usefull works great
5
Works well since years and provides new features to improve the experience
5
excellent plugin and outstanding support
I was looking for a plugin that could not just add delivery times to products for delivery, but also products for collection. There was some custom tweaks required but the support team were great at advising me and helped me set everything up. Amazing plugin, highly recommended
5
Very useful, perfect for my site AND great support.
This plugin is awesome. It does pretty much exactly what my client needed and the developer was super responsive and helpful! Highly recommend.
5